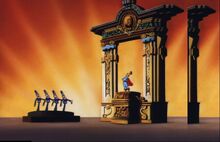 The Lord Bravery Theme appears in Episode 3 and Episode 5. It is sung to the tune of "A British Tar Is a Soaring Soul" from Gilbert & Sullivan's H.M.S. Pinafore. Paul Rugg is a fan of Gilbert & Sullivan, and previously parodied their songs in the Animaniacs short "H.M.S. Yakko."
He feels no pain, he can fly quite fast
In feats of strength he is unsurpassed
His grip is firm, never quavery
Britannia's superhero, he's Lord Bravery
Lord Bravery
Lord Bravery
Lord Bravery!
Ad blocker interference detected!
Wikia is a free-to-use site that makes money from advertising. We have a modified experience for viewers using ad blockers

Wikia is not accessible if you've made further modifications. Remove the custom ad blocker rule(s) and the page will load as expected.