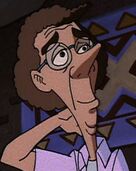 John P. McCann was a story editor and writer on the show, as well as a producer on the second season. He provided the voices of Douglas Douglas and Hero Boy.
McCann got his start as an improv writer and actor with the performing companies the L.A. Connection and the Acme Performers (where he met friend and Freakazoid! collaborator Paul Rugg). Rugg and McCann were both hired as series writers on the first season of Animaniacs. Senior producer Tom Ruegger subsequently brought the two men over to run Freakazoid!
Following the cancellation of Freakazoid!, McCann served as co-producer and co-story editor on Pinky, Elmyra and the Brain.
Writing Credits
Edit
Season 1
Edit
Season 2
Edit
Caricatures/Cameos
Edit
References
Edit
Ad blocker interference detected!
Wikia is a free-to-use site that makes money from advertising. We have a modified experience for viewers using ad blockers

Wikia is not accessible if you've made further modifications. Remove the custom ad blocker rule(s) and the page will load as expected.