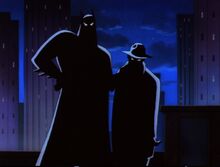 Batman makes a cameo in "Dance of Doom," described as unfortunately being on another network and thus unable to stop Cave Guy.
Batman: The Animated Series was on Fox when this episode aired. It joined Kids' WB! in fall 1997, months after Freakazoid! was canceled.
A snippet of the theme from Batman: The Animated Series (originally composed by Danny Elfman for Tim Burton's 1989 Batman film) plays during the scene.
Batman art is seen in the background at both the comic book store and the comic convention in "And Fanboy Is His Name." A fan in a Batman costume is seen at the Anaheim comic convention in "Freak-a-Panel."
Ad blocker interference detected!
Wikia is a free-to-use site that makes money from advertising. We have a modified experience for viewers using ad blockers

Wikia is not accessible if you've made further modifications. Remove the custom ad blocker rule(s) and the page will load as expected.