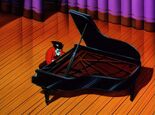 There are three "musical interludes" throughout season 1. These are quick interstitial segments, all following the same pattern and reusing the same animation. The Announcer introduces the segment, and then Freakazoid plays a song very poorly on the piano. In Episode 3, he plays "Chopsticks." In Episode 7, he plays Tchaikovsky's Piano Concerto No. 1. In Episode 10, he plays "Jingle Bells."
In the prime time variant episode Episode 8A, a fourth "musical interlude" occurred, with Freakazoid playing Ludwig von Beethoven's "Für Elise."
Ad blocker interference detected!
Wikia is a free-to-use site that makes money from advertising. We have a modified experience for viewers using ad blockers

Wikia is not accessible if you've made further modifications. Remove the custom ad blocker rule(s) and the page will load as expected.